COURAGE IN THE CAGE: GSP'S HORROR OF MATT HUGHES
Only by losing in R1 did St-Pierre realize he was the better fighter
Fighters get afraid. What makes them so special, what makes them our heroes in the first place, is that they seek out and conqueror those fears.
In his ongoing series - COURAGE IN THE CAGE - ANT EVANS explores an important but supposedly off-limits subject.
Subscribe today to receive each installment of The Ultimate Insider in your email inbox for FREE.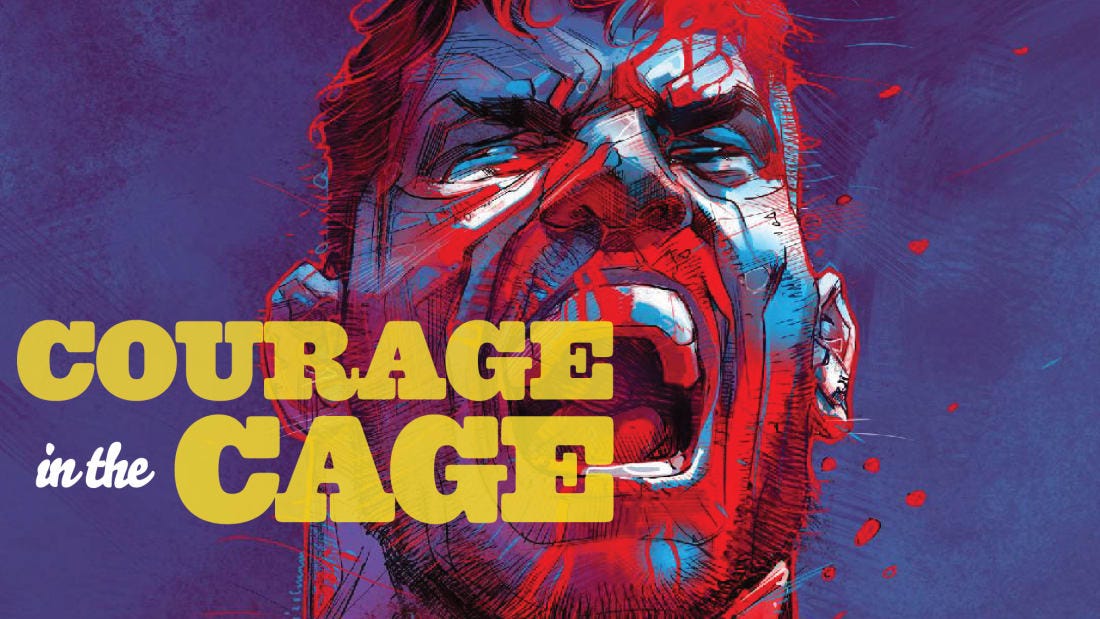 IN THE LATE SUMMER OF 2004, GEORGES ST-PIERRE was a 23-year-old undefeated welterweight who'd been taken the distance exactly once in his 7-0 pro MMA career.
It was resoundingly obvious the young man was something special.
The Canadian's strikes snapped along exactly the right angles and his takedowns were already nigh near unstoppable. He also possessed an athleticism, a fluidity of motion, that had scarcely been seen in the sport. After 'GSP' defeated both Karo Parisyan and Jay Hieron in the UFC, matchmaker Joe Silva knew St-Pierre was reading for a shot at the UFC championship.
What Silva couldn't know, though, was that the young St-Pierre wanted no part of fighting champion Matt Hughes.
"I was intimidated by Matt," St-Pierre told me in a matter of fact tone several years ago. "He was my idol, the best fighter in the world. I thought there was no way I could beat Matt Hughes. To me, Matt Hughes was a giant in MMA, y'know. In my mind I'd been pushed to the fight (too fast) but I could not say 'no'. I was the next contender. I was the next guy. I could not say 'No, I am not next... call somebody else.'"
This is what some psychologists call the 'hierarchy of fears.' As overawed St-Pierre was at the prospect of fighting Hughes, going through with it was still preferable to the personal and professional humiliation he knew he'd feel if he turned the title shot down.
St-Pierre's childhood had taught him that lesson, harshly.
"I got bullied pretty bad by bigger, older kids," he said. "They would beat me in the (school) bus and I would come home with black eyes. There was one bully, the worst one, he was three years older than me, bigger, stronger and always fighting."
The black eyes alerted St-Pierre's father, Roland, to what his son was going through. The elder St-Pierre had a word with the bully's father - just like every good dad would and every son wished they wouldn't.
The next day, a bus full of his schoolmates teased the young GSP relentlessly.
"Everyone was calling me a coward and a chicken for telling my father," he recalled. "This was even worse than the (physical bullying). I was so humiliated. I got up, ran towards the back of the bus and tried to punch the bully. And he kicked my ass, bad, but at least I was not longer called a coward."
In an echo of what happened on the bus, St-Pierre accepted the fight with Matt Hughes.
As Darren Till recently noted and as we've already seen in previous Courage in the Cage interviews with Chael Sonnen and Rashad Evans, fighters can be tormented by the temptation of pulling out of a fight with a faked injury.
So it was with Georges St-Pierre as the summer of 2004 waned and the shorter days ticked down to the UFC 50 showdown in Atlantic City on October 22.
"I could not sleep," he recalled. "Night after night I could not sleep. I was too anxious. Alone at night, I could not stop (the thoughts). I wanted to say (to the the UFC) I had an injury. What would be a good injury? Something a doctor would not notice (was faked)?
"Just get me outta this was what in my mind, all the time."
IT WAS NO ACCIDENT THE YOUNG FIGHTER FOUND MATT HUGHES INTIMIDATING; the champion had spent years cultivating an arrogant stoicism that radiated supreme confidence.
Hughes was also vastly more experienced than Georges, having already had 40 pro-fights where only three men had escaped defeat. In a still young sport, by 2004 Hughes was one of the very few to have already seen and done it all. The American's confidence was as rock-solid as his granite like physique - and he used both to scare his opponents witless.
The Canadian wanted the fight over with as soon as possible but, when the big day came, the showdown approached like a runaway train.
'GSP' remembers he fought the fight on "a kind of autopilot."
Hughes won with an armbar in the very last second of the first round.
Reviewing the tape, St-Pierre saw he had dominated the fight until making a rookie error that led to the finish.
"I was shocked how good I had done," he said. "I was the better guy in the fight. I was winning the round and then, because I was on autopilot, did not think and left myself open and Matt took advantage with the armbar."
A revelation hit the now 7-1 fighter. If he could be competitive with Hughes while on "autopilot" then – surely – he could do even better if he went into the octagon believing in himself and mentally present.
St-Pierre said: "The first Matt fight showed me I was at world (championship) level. From that fight, I had no more fear of Matt Hughes. Respect, but no fear. I was kicking myself (for not believing in myself more in the first fight). I could not wait to fight him again."
Indeed, the Canadian famously got down on his knees in the middle of the octagon and begged for the rematch. "Please!" he said after stopping Sean Sherk at UFC 56, "I want it so bad!"
St-Pierre got his rematch at UFC 65 (November 2006) after beating Jason Miller, Frank Trigg, Sherk and BJ Penn in row. He showed up for the Hughes rematch a radically different fighter to the nervous novice who'd lost the first encounter.
Focused and present in the moment, GSP dominated the UFC 65 fight, stopping Hughes with strikes in the second round. A year later St-Pierre again made easy work of the future UFC Hall of Famer, this time submitting Hughes with an armbar at UFC 79.
It would be wrong to look back at their records and conclude there was plenty of evidence all along that GSP was simply too fast, too athletic and too good for a man who'd turned professional during the Pioneer Era of the sport.
Fear and intimidation are unrestrained by rationality.
Fear doesn't check records, weigh performances against common opponents or remind fighters that "styles make fights." It is fear's job to inform behavior with all the subtly of a sledge hammer and to always - always - err on the side of 'get me outta here.'
St-Pierre was always going to lose that first fight, because his own mind had convinced him there was no way to win.
"I needed the first fight – to lose the first fight – to believe I could win against Matt Hughes," St-Pierre explained, knowing full well that may not make sense to those of us on the safe side of the fence. "The fight in our mind can be harder to win than the one in the (MMA) fight."
St-Pierre is one of the few fighters who regularly speaks of his innermost thoughts and fears. To a cerebral 21st century athlete warrior like Georges, mental preparation became just another aspect of readying his entire being to perform in the octagon. He consulted with sports psychologists for the rest of his career.
He never gave any opponent the advantages he handed over the Hughes.
"It is okay to be afraid in the fight," he learned to accept. "But that is the start of the fight in your head. If you win that fight, you can beat any opponent."

ULTIMATE INSIDER WILL RETURN IN A FEW DAYS WITH AN ACCOUNT OF THE DARK ARTS OF PR AND HOW I USED THEM IN THE WAR AGAINST THE PEOPLE WHO TRIED TO BAN MMA IN THE 2000s.
'COURAGE IN THE CAGE' WILL RETURN NEXT WEEK. IN THE MEANTIME, CHECK OUT PREVIOUS ARTICLES HERE.
THANKS AS EVER TO TO JEREMY BOTTER AND @MrHowardPorter FOR THE DESIGN AND ARTWORK OF THIS NEWSLETTER.