FIGHTING HUMAN COCKFIGHTING
MY BATTLE WITH THE BMA & HACK JOURNALISTS

As difficult as it may be to imagine in this era of billion-dollar valuations and eight-figure streaming deals, the future of mixed martial arts was still been fought over until quite recently.
As the former head of media relations for the UFC, I was on the frontlines. This is an account one of the many battles I saw.
I WAS IN LONDON ON TUESDAY, SEPTEMBER 4, 2007, AND THINGS HAD FINALLY STARTED TO GO WELL.
Five months after taking the job as the head of UFC media relations in that part of the world, I felt like I was beginning to make a difference. Almost a dozen British media outlets would be attending UFC 75 at the O2 Arena the coming weekend, the show was sold out and I'd even managed to secure pre-fight coverage in one or two actual sports pages. 
The major achievement of the summer's work was that the UK press were no longer attacking the sport as "no-hold barred", "barbaric", "sadistic" and (trigger warning) "American". That small but vital victory had been achieved by myself UFC UK boss Marshall Zelaznik and fighter Michael Bisping engaging dozens of key journalists in a charm offensive that would make Pepe Le Pew blush.
There were years of hard work in front of us before the kind of rolling editorial coverage that far less popular sports take for granted would be secured but I, for one, was ready to enjoy a great fight week of introducing our sport and its athletes to the UK media.
But then my phone began vibrating like a sex toy convention. My partner Lesley Land - a wonderful PR talent who the UFC had retained to help me with mainstream media - forwarded a press release from the British Medical Association. The BMA would soon be issuing it to every media outlet in the land calling for MMA (well, the release called it "ultimate fighting") to be banned in the UK.
It read in part:
Dr Vivienne Nathanson, head of science and ethics at the BMA, said: "Ultimate fighting can be extremely brutal and has been described as 'human cockfighting'. It can cause traumatic brain injury, joint injuries and fractures.

"This kind of competition hardly constitutes a sport - the days of gladiator fights are over and we should not be looking to resurrect them. As doctors we cannot stand by while violent fighting tournaments are allowed to take place… no amount of money can compensate for permanent brain damage and premature death. As a civilized society we should be campaigning to outlaw these activities."
For those not familiar with the BMA, it is a UK health industry trade union with pretensions of moral superiority. Instead of setting about the dreary work of representing their members in employment disputes (y'know, like reducing emergency room doctors hours to under 100 a week and getting more pay for overworked nurses and other such humdrum) the BMA's leadership has instead busied themselves making media appearances calling for the abolition of… boxing.
Yes, really.
I worked in the Sweet Science from 1999 to 2007 and knew full-well how damaging the BMA's rent-a-quote crusade had been to boxing - and how bad it could be for MMA.
UFC 75 was the third major UFC in the UK that year - following April's UFC 70 and June's UFC 72 in Manchester and Belfast respectively. It says a lot about the Londoner snobbery of the BMA that they ignored those sold out events and timed their attack for a London fight week. Nevertheless, all the progress MMA had made in the UK was under threat. The press release was the start of a full-on attack by the BMA, designed for maximum publicity and impact.
The release was embargoed until early the next day but had been sent out to the media around 2pm. That was no accident. UK newspapers go to print in mid-afternoon and a tight turnaround would all but ensure the hacks assigned to re-write the press release for print wouldn't bother fact checking, much less seek comment from the UFC.
Few people have been embarrassed because they overestimating the laziness of British tabloid journalists.
I checked my watch - I was already almost out of time. Lesley and I frantically began dialing the sorts newspapers and publications we knew would run the BMA's attack without seeking comment from the UFC. Valuable time flew by as I was bounced from sports desks to news desks to health desks before I finally spoke to the right journalists who had (already) written up and filed the press release.
We did what we could. The Daily Star actually flipped their whole angle to "UFC hits back on BMA calls for ban", and the influential BBC website also included quotes from me pushing back on the BMA's most absurd talking points. (In fact, the BBC misquoted me pretty badly and, bizarrely, included quotes from a random McDojo charlatan and actual convicted fraudster named Paul Griffin.)
But then I was out of time as well as luck. There was nothing that could be done about the half a dozen major newspapers that went to print quoting the BMA's missive without one word offered in MMA's defense. The best that could be done is hope some of the more salacious nonsense would be edited out and, the next day, we would follow-up with a demand of right of reply.
But millions of people – politicians, parents and potential MMA fans alike – would read those unopposed bullshit talking points. The sheer casual laziness of these hacks cutting and pasting untruths from an ax-grinding press release into their publication, with no attempt whatever to balance the article by seeking comment from the offended party, was galling.
Their hypocrisy offended me on a near molecular level. These were the very same news outlets that had informed me and my colleagues for months that "ultimate fighting just isn't something our readers/audience is interested in reading about".
But I knew worse was on its way.
You see, sending out a press release with an embargo is indication that either a) a single media outlet has been promised an exclusive or, as in this case, b) live TV and/or radio appearances had been booked to coincide with the story breaking.
Experience told me it was the later, but now I needed to know exactly which radio shows the BMA rent-a-quotes would be crowing on.
And so I reached the bag of dirty tricks I'd learned while working as a journalist myself...

MAKING SURE TO HIDE MY PHONE NUMBER, I CALLED THE BMA'S HEAD office and asked to speak to their PR desk.
"Hi, this is Tony Elevens from (mumble mumble) London Radio's health and wellness show," I began to tell the youngish sounding bloke on the other end of the line. "I was forwarded your release on this ultimate death cage of doom stuff - sounds perfectly dreadful! – and we want to book Dr Vivienne Nathanson in-studio tomorrow morning? Would around 9AM work for her?"
The nice but dim sounding man told me that, in fact, Dr Nathanson wasn't the BMA's actual spokesperson on this topic, and gave me the name of a man which I've long since forgotten. We'll call him Doctor Bullshit from here on. Anyway, Dr Bullshit wasn't available at 9am.
"What about 8am?" I asked, keeping my voice flat but positively thrilled this guy was such a chatterbox.
"Sorry, that's too close to the BBC Radio 5 interview at 7:30am."
"Right, okay…" I strangled back a giggle. "Well, what would work?"
Astonishingly, this bloke literally recited Dr Bullshit's entire itinerary for the following day. There were three interviews, all of them in-studio: BBC Radio London at 7:30am, followed by BBC Radio 5 at 8:30am and finally a dash across London for an appearance on talkSPORT radio at 10:00am.
Only three interviews but, combined, that would be millions of listeners all hearing "ultimate fighting" was "human cockfighting" and "bare-knuckle fights to the death" and other total bollocks. It would take forever to undo the damage because bullshit, any good publicist will tell you, sticks just as much as it stinks.
With the info I needed, I called the producers of all three shows in turn.
"Now, obviously, you weren't going to have the BMA on to bash the UFC without having anyone from the UFC on as well. I'm sure you were looking for UFC's contact details," I patronized, "but I thought I'd call you and save you the effort."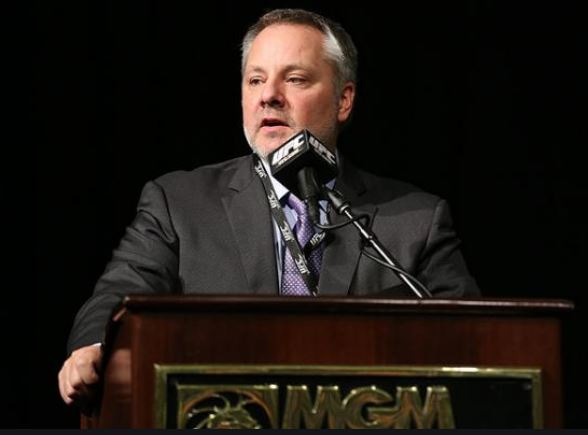 (Marshall Zelaznik, and his one good tie, around 2014)
VERY EARLY THE NEXT MORNING, MARSHALL ZELAZNIK AND I took a cab across London to the BBC's radio studios located in the basement of Yalding House, 152-156 Great Portland Street.
"We are already going to sound 'defensive' because we are the one's getting attacked," I told Marshall, who'd already reached the same conclusion. "So you need to attack him – right from the off. He's the one who needs to defend his position, not us."
Marshall gave me a look. We smiled. Marshall, who spearheaded the UFC's expansion in Europe, Brazil, Australia and the Middle East and originated UFC FIGHT PASS before leaving the company in 2016, is not only is the smartest person I've ever worked with, but he also has an easy charm and, as a former lawyer, is rather good at arguing.
With respect to Dana White's passion and brash charisma, Marshall's even-toned approach was exactly what this occasion needed.
We met Dr Bullshit in the green room. He was a fat man who looked like he'd gas out making a long distance phone call. I don't mention that as a cheap insult; but I think if someone insists on lecturing the rest of us to not take risks with our health, he better damn well be practicing something resembling what he's preaching.
At exactly 7:27am, a producer escorted the good doctor and the UFC exec to the studio. I stayed outside, looking in through the sound-proof window and listening to the show over loudspeakers mounted throughout the thickly carpeted hallway.
The large 'LIVE' sign above the studio door was switched to red and the fight was on.
Marshall stormed to the center of the cage and got to work: "If the BMA had spoken with us or conducted any research at all before they went public with their opinion, they would have found there has never been a serious injury – let alone a death - in the UFC."
Then addressing the good doctor directly, he added: "The conclusions you reach are not based on evidence."
"I am a doctor," the man introduced as a doctor reminded everyone in a tone I knew many listeners would not appreciate. "I don't need to conduct research to know bare-knuckle cage fights are dangerous."
Marshall countered with a one-two combo:
1)      UFC athletes wear gloves ("they are black with "U-F-C" written on them in bright white lettering") and
2)      the cage prevents athletes from falling out on the arena floor while grappling ("ignore the aesthetic – the cage is a safety feature")
"On Saturday we will have some of the most respected doctors in the UK working at octagonside," Marshall added. "They disagree with you. You aren't speaking for every member of the medical profession. And you aren't speaking from an informed position, either."
Then Marshall baited the trap, "It is odd the BMA has never campaigned to ban motor racing or mountaineering, despite the well-established dangers of those sports…"
Doctor BS couldn't hide his incredulity: "Really?!? Comparing cage fights to motor sport? The people who participate in mountaineering and motor sports understand there is a risk-"
There it was! Marshall pounced.
"So do mixed martial artists!" he said. "There is a degree of risk to any contact sport, and if we are living in free society we are entitled to make up our own minds whether or not we accept those risks. Over 70% of our current roster has a college degree. These are intelligent, educated athletes who don't need you - and don't want you – trying to do their thinking for them."
The radio host turned to the BMA spokesman and asked "That all sounds reasonable enough to me. Why does the BMA feel it is your job to tell these cage fighters – some of them university educated as the head of the UFC just told us – what they can and can't do?"
Several moments of silence were broadcast to the nation as the good doctor scrambled for a retort.
When it came, it was a weak one: "Well, I am afraid I can't believe that these men have had education…"
"Well, okay, then," Marshall chuckled.
And so did the BBC radio host, who stopped the interview shortly thereafter.
Marshall took off the headset and we exchanged grins though the glass. It had been a 10-8 round, maybe even a 10-7. Doctor Bullshit wore an expression like a slapped arse as he stormed out of the studio.
"You did great, Doc!" I yelled after him. (I'm such a dick, I know.)

ROUND TWO CAME IN ANOTHER STUDIO A LITTLE FURTHER DOWN THE SAME HALL WAY. It was even more one-sided. Marshall continued to work the body, asking the BMA rep if any press releases were going to be issued calling for the weekend's big rugby match to be called off.
"Oh, no, no," stumbled the response. "I'm looking forward to the big England game this Saturday."
Marshall cited a peer-reviewed study we'd found underlining the significant risks of head trauma associated with rugby.
The BMA fella mumbled some nonsense about rugby being "worthy" and "honorable." He was floundering, drowning in his own horseshit and Marshall kept pushing his head under.
"You are trying to police the morality of sport in this country," Marshall attacked. "You aren't speaking from a medical point of view. You and one or two of your BMA colleagues have a personal dislike of combat sports – and you are entitled to that – but you aren't entitled to a power of veto over what the rest of us do or what we enjoy."
Marshall then spoke with some passion on the virtues of combat sport: the courage, the strategy, the discipline of learning and combining five Olympic sports (maybe the best talking point I've ever come up with, that one).
He then invited the doctor to attend UFC 75.
"We'll put you in the front row and you can speak to any of our medical staff, our athletes and executives you wish. I'm confident you will leave the arena, if not a fan, certainly with a very different perspective if only you'll take one evening to learn something about our sport."
Of course, the good doctor declined. He didn't need to see MMA in order to know it should be banned, he said.
At that, the radio host – this one a middle aged woman who'd clearly been disappointed by the one-sided nature of the verbal fight – weighed in on the UFC's side.
"You sound a little like those old campaigners who wanted to get the Rolling Stones and the Beatles music banned," she said. "'I don't need to listen to it – I just know it should be banned.'"
After getting murdered twice over, it was no surprise Dr Bullshit no-showed the final head-to-head with Marshall at talkSPORT. And so, Marshall got 20 minutes of talking up the big two fights at UFC 75 - Rampage vs Henderson and Bisping vs Hamill - and how the UFC was the next big thing in sports.
WE DIDN'T HEAR ANY MORE FROM THE BMA, NOT AFTER THAT BEATDOWN.
As far as I know, they never issued another press release nor trotted out one of their haughty, holier-than-thou spokespeople to condescend about our sport again.
And, if anything, their ill-judged attack only helped myself and my colleagues reengage the media, who had now disarmed themselves of the argument "we don't cover MMA." The Daily Star, in fact, became the first national newspaper anywhere in the world to run a weekly column dedicated to the UFC.
It felt good to score a win for the sport, but true acceptance of MMA as a genuine sport was still a long way off.
If you enjoyed this ramble, please hit the blue button below for a FREE email subscription to The Ultimate Insider. Email subscribers are entered into a FREE monthly draw for signed UFC fighter collectibles. Last month a Mr Saul Helwani (no relation to Ariel, I presume) from LA won a cool signed Diaz brothers tee.
Check out previous articles here.